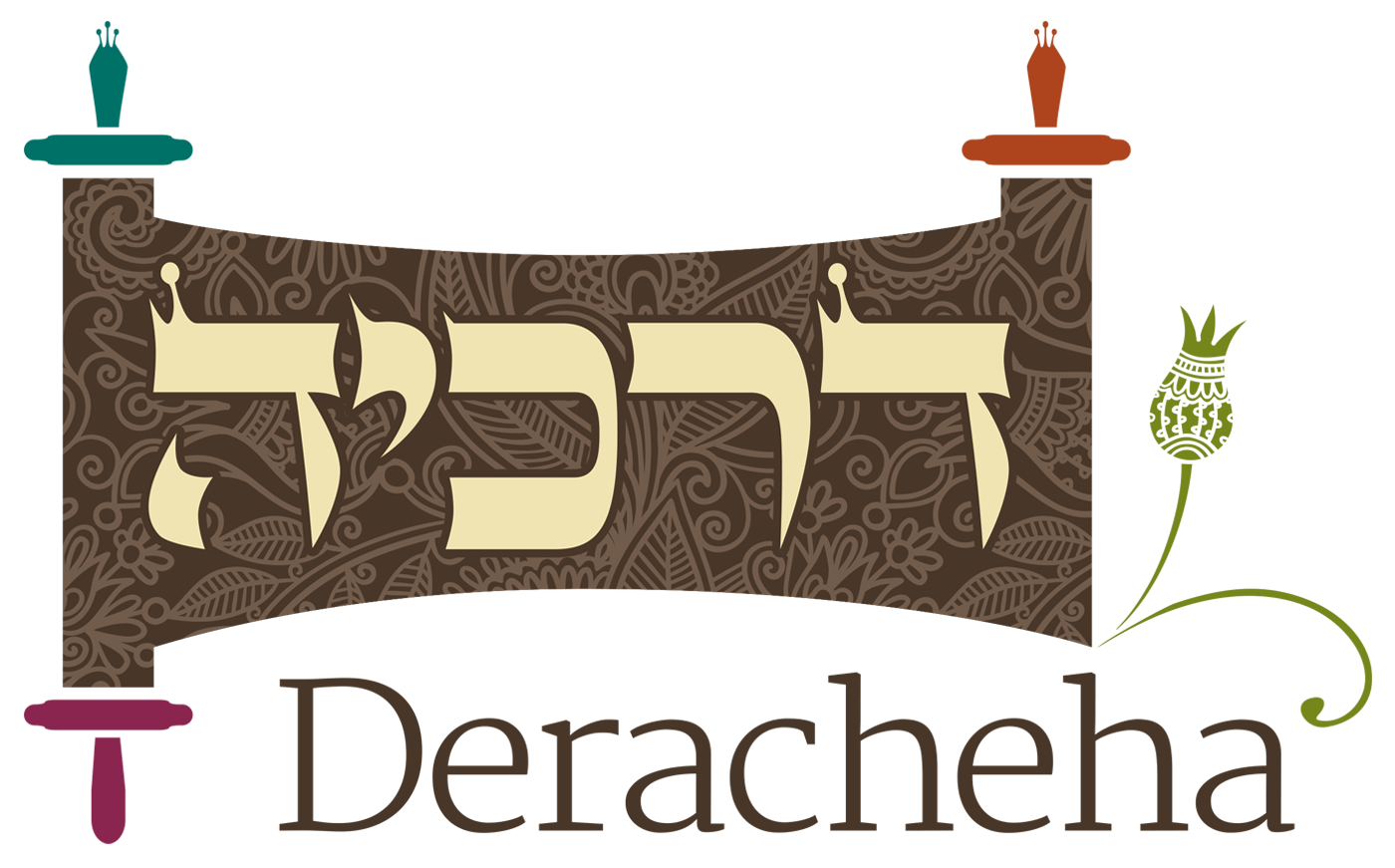 Click here to view an updated version of this shiur with additional features on the Deracheha website.
Did you know there's more to Deracheha than our shiurim? Sign up for our newsletter here and get all our content! 
Have some feedback for us? Please click here!
By Laurie Novick
Rav Ezra Bick, Ilana Elzufon, Shayna Goldberg, and Rav Da'vid Sperling, eds.
How to Cover
Let's explore the range of opinion on these issues, noting when the emphasis is on dignified head-covering and when it is on modest hair-covering.
A basket that has an indentation on its underside to fit on one's head and a receptacle above in which to put a spindle and flax
Full Hair-Covering
The Talmudic account of a woman named Kimchit takes the idea of covering hair out of modesty to an extreme. Kimchit states that the beams of her house never saw the braids of her hair, which implies that she kept her hair fully covered at all times, even at home.
Additionally, this passage implies that Kimchit's act was unusual, and not to be expected. She sees her conduct as uniquely meritorious, and the sages say "many others" have done it. Not all women shared this practice, or were obligated to, which suggests a woman could meet standards of modesty without full coverage.
The Zohar draws on the Kimchit dialogue to present covering every strand of hair, even within the house, as essential for all married women:
A woman for whom hair of her head emerges from its covering causes sorrow to her home and causes her children not to be counted in the city and causes evil forces to dwell in the home. Who causes this? That hair of her head that is seen outside. ..For this reason, it is required of a woman that even the walls of her home not see a single hair of the head, how much more so outside [the home].
According to the Zohar, misfortune befalls a home as a consequence of a woman's hair being at all uncovered within it. The mystical implications of keeping each hair uncovered go beyond ordinary considerations of modesty. The Zohar's position connects to broader kabbalistic ideas according to which hair is associated with judgment, and thus uniquely vulnerable to evil. This passage indicates that keeping all hair covered at all times and in all settings is praiseworthy.
But in the Zohar Naso p. 239 he was very stringent that not a single hair of a woman should be seen and thus is it fitting to practice.
This practice is followed in many communities, especially in Chassidic circles.
Closer to our day, Chatam Sofer rules that a woman outside her home should wear two coverings, one atop the other, to ensure that not a single hair be seen, following the Zohar:  
Partial Hair-Covering
Rashba seems to indicate that there is no problem whatsoever with a woman leaving some hair exposed. Assuming that Rashba has in mind even a married woman outside of her home setting, this would mean that not every hair need be covered.
Rema rules like Rashba:
For Maharam Alashkar, it is not necessary or even desirable to cover every strand of hair. Leaving some hair exposed at the temples or perhaps even a fringe (i.e., bangs), is a longstanding custom in conformity with standards of modesty.
Maharam Alashkar argues that modest practice should not come at the expense of a woman's attractiveness to her husband, which is part of the bond between husband and wife. A woman today might add that letting some hair show at the temples or in front, so that she doesn't look bald, helps her maintain her own sense of attractiveness as well.
That which some say, that even one hair from the hair of her head that is visible entails a Torah level prohibition, is incorrect, for the custom of Sefardi women is to show a fingerbreadth or two from the hair of the head in the front, and Maharam Alashkar, who was a world-class scholar in the time of Beit Yosef, ruled to permit it.
According to his approach, a small amount of hair showing at the front of the head does not change the overall modest effect of a woman's head-covering.
Rav Moshe's Ruling
Rav Moshe's ruling has been widely accepted in some circles. Others emphasize that Rav Moshe presents covering more hair as praiseworthy, and question how freely he intended women to rely upon his ruling. A look at his words indicates that full covering is commendable, but relying on his lenient ruling fully acceptable.
Head-Covering
It is possible that Rav Rabinovitch's statement that "one must cover most of the hair of the head" has led to the increasingly common practice of women covering just the top of the head while leaving a good amount of hair flowing beyond the covering, something that Rav Lichtenstein did not support.
Wigs
Many women observe the mitzva of head-covering by wearing wigs. From the perspective of modesty, a wig's effect is mixed. On the one hand, the wig provides full hair coverage, and in that way may be preferable to other options. On the other hand, a wig can look so natural and attractive that it is unclear how it satisfies the dictates of modesty.
A woman [is permitted to] go out [on Shabbat]... with foreign hair to the courtyard
According to Shiltei Gibborim, this mishna, coupled with common custom of his day, provides justification for wigs as a form of head covering. He adds that hair growing from the scalp appears significantly different from hair that is not naturally attached. This last argument may have been more applicable to wigs of his day than to some of the more upscale wigs of today, which are attached to a false scalp and thus do appear to grow from the scalp.
Common Ashkenazi practice is to permit wigs as a form of head-covering. This raises questions about dignity. In Talmudic times, it seems that dignified dress in public required a significant, visible head-covering. From that standpoint, it would seem that a wig should not qualify as a head-covering.
Nowadays, in some religious communities, wigs are considered more dignified than other head-coverings, in the sense that women would not wear anything other than a wig to a formal event. What constitutes a standard for modesty in wigs also varies from community to community.
By placing a hat atop a wig, a woman both ensures all her hair is covered for modesty purposes, and has a hat to add dignity.
It is important to note that the rulings of Sefardi halachic authorities on wigs as head-coverings are mixed. Some Sefardi authorities, such as Kaf Ha-chayyim, freely permit them:
Thus is the consensus of the later halachic authorities to permit [wigs] like the words of the Rem"a.
Others, such as Rav Ovadia Yosef, do not generally permit wigs as head covering:
Rav Yosef opposes wigs because they raise questions about modesty, and because they could give the false impression that a woman's head is uncovered. Additionally, he does not think wearing wigs is supported by Sefardi custom. Even Rav Yosef, however, permits wigs in special cases, such as following divorce.
● Why is it accepted for a woman to wear a wig that is nicer than her hair?
A woman who wears a scarf on her head will tend to take it off in certain cases because of discomfort. As opposed to a woman who dons a wig, even if President Eisenhower himself walks in, she will not remove it.
Since a woman is unlikely to remove her wig or feel otherwise self-conscious when wearing it, the Rebbe considered wigs preferable to other forms of head-covering.
In recent decades, it has become increasingly prevalent for rabbis of some communities to endorse wigs as preferred head-covering, because they provide fuller coverage than many scarves.
In general, styles of head-covering tend to vary from community to community, influenced both by Halacha and social and cultural trends.
In our next and last installment of this series, we discuss in what settings the obligation of head-covering applies.
● How should a woman cover her head— and hair?
Ellinson, Rabbi Elyakim Getsel. Woman and the Mitzvot: Guide to the Rabbinic Sources Vol. 2, The Modest Way, trans. Raphael Blumberg. Jerusalem: World Zionist Organization Department for Torah Education and Culture in the Diaspora, 1992.
Henkin, Rav Yehuda. Understanding Tzniut. Jerusalem: Urim Publications, 2008.
Haber, Rav Shemuel. Et Tzenu'im Chochma, Vol. 1. Karnei Shomron, 2007.
This website is constantly being improved. We would appreciate hearing from you. Questions and comments on the classes are welcome, as is help in tagging, categorizing, and creating brief summaries of the classes. Thank you for being part of the Torat Har Etzion community!